The "Sight Unseen Space, 3k for Everything" Apartment Makeover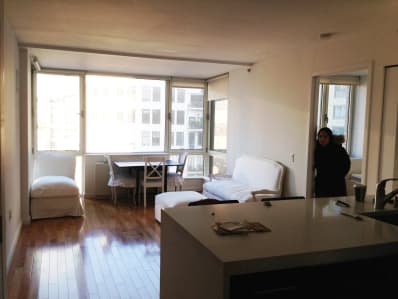 (Image credit: Submitted by Samantha)
Project by: Samantha
Location: New York, NY
It was actually my boyfriend who picked out our temporary apartment in midtown Manhattan - at the time I was still living in Amsterdam. Unfortunately, I did not have the time to fly to New York by the time he moved in, in order to help him out. Hence, I had to order most of the necessary furniture online and have it delivered to an apartment I hadn't even seen yet which was a bit of a challenge and risk. The other challenge was our budget; we only had about $3000 to furnish the 2 bedrooms and a living room.
(Image credit: Submitted by Samantha)
Given the fact that all the rooms were very small and it would only be a temporary rental, I could and would not buy a lot of furniture anyway. I did not know New York that well and eventually ended up ordering most of the basic furniture pieces online at IKEA Elizabeth (New Jersey), some at Shabby Chic Couture (Soho) and got everything else at local flea markets and home furnishing stores by the time I arrived in New York 6 months later.
(Image credit: Submitted by Samantha)
Because I knew that the space was limited, I wanted most of the furniture to be white and stick to just a few colors to provide a clean look. I decorated the living room with grey and blush candles and some other grey and white accents.
(Image credit: Submitted by Samantha)
When I moved in, I rearranged the furniture and decorated the apartment with some accessories to make our temporary apartment feel homey. The chaise lounge was one of the less successful online purchases I made because it looked odd and too big for the tiny space at first. With a bunch of grey and white pillows and plaids, I turned it into a love seat. We weren't allowed to do any painting or make holes in the walls, I used command stickers to hang some pictures on the wall.
(Image credit: Submitted by Samantha)
We recently moved back to Amsterdam but I still miss the apartment.

Resources Couch and chairs: Shabby Chic Couture / IKEA
Tabel: Ikea
Lamp shade: Ikea / DIY
Table cloth: H&M Home
Dresser: Brooklyn Flea
Pillows and plaids: H&M Home / Zara Home / Xenos
Trays: Woontante / Leenbakker
Clock: Xenos
Lantern/ vases: Riviera Maison
Plates: West Elm
Thanks, Samantha!
• Are you interested in sharing a decorating or renovating project with the Apartment Therapy readers? Contact the editors through our Makeover Project Submission Form.